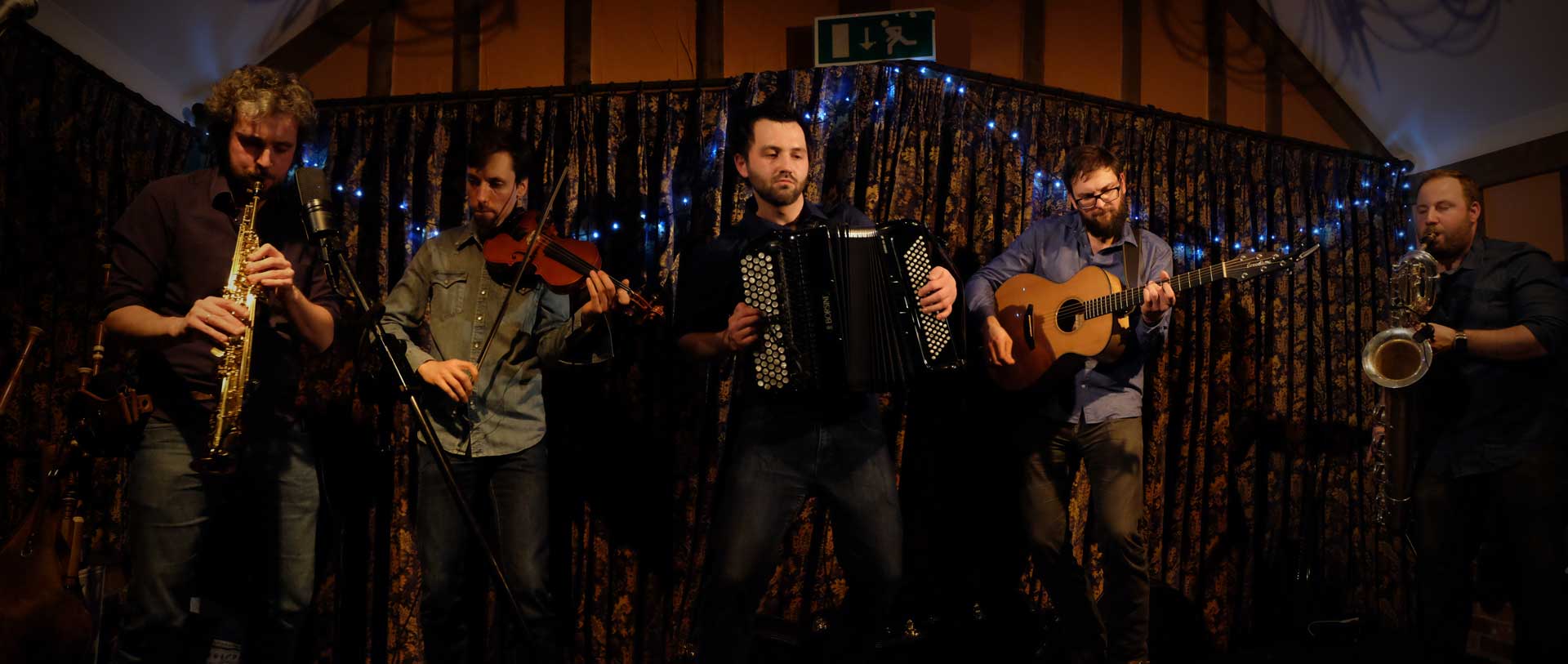 Cor blimey … you can take me back to the 18th century anytime WOR
I think the best way to describe WOR would be WOW! What a great group of lads and what a talented bunch of musicians. I feel very lucky to have been able to witness their performance last month at the Froize from the very front row (best seats in the house I swear … you can literally feel the energy of that baritone saxophone vibrating through your seat).
So, WOR had come to us from the Flanders region of Belgium; five very lovely flemish boys who, in rehearsal, spoke mainly in their native tongue … but even though I didn't understand a single word they said (my Flemish is a bit rusty of late), I could tell that they all had a great passion for the music they were creating. As soon as they started their sound check, I knew we were all in for a great night and the smile was unable to leave my face.
WOR are made up of Pieterjan Van Kerckhoven (the new father (awwww)… on bagpipes and soprano sax), Jeroen Goegebuer (fiddle), Bert Ruymbeek (piano accordion), Jonas Syheys (guitar) and Fabio Di Meoy (the recently engaged (awwww) … on baritone saxophone) (can you tell why I didn't attempt to introduce them by name … I don't think I even said 'WOR' right). For those of you who weren't there, WOR perform their own rhythmic arrangements of manuscripts from the 1780's, and boy! did they know how to party in the 18th Century! 🙂
They got us all clapping along to 'Lavandiere', which they said was the 18th Century equivalent of 'We will rock you', (pretty damn awesome) … then they got us singing along too with some easy to remember 'ooooo's … nothing too taxing for the brains or vocal chords, but highly effective and involving for us Froizers. The huge round of applause that followed their performance, possibly the longest and most rapturous of any performance at the Froize so far, is just further proof of how fantastic they were.
I loved the cheeky commentary that went to-and-fro between Fabio and Pieterjan (PJ) (with their Belgian lilt, it made them all the more endearing), especially when they made the comments that 'the chicks are gonna dig that yeah' (tee hee). They held the audience in the palm of their hand. Plus … wait for it … drum roll please … they officially broke the Froize record for most albums sold after the gig … Hurrah!. Congrats boys! It seemed everyone wanted to take some of your 18th Century vibes home with them. We do hope you enjoyed yourselves and that you'll come back to see us again some day soon. For those of you who missed the show, but fancy listening to or puchasing their music, you can do so on itunes or via their website here.
Our support act was none other than Nick Brown from nearby Rushmere, one of the tallest performers to grace the Froize stage so far, and certainly one of the deepest voices! I just love Nicks voice. It's so rich and warm. He tried out a few new numbers I hadn't heard before, but I will always love his original song 'Dreaming of Lisbon', which never fails to conjure up visions of characterful european streets on balmy summer evenings. Such a well executed guitar part (I have to admit … it gives me songwriter envy). Nick went down wonderfully with the audience, helping them work up an appetite for another Froize feast (loved the lasagne btw. Louise and David … mmm mmmm).
Or next performance is still a few weeks away now, not until the 26th of March. We are going to be joined by Ninebarrow, two young, harmony laden lads from the UK (I feel I have to clarify that now with our internatinal line up hee hee) with multiple awards for their musical genius. Support will be from Johns and Nowak, who are coming all the way from Bath and Bristol. I'm sure we are in for a treat. Here's a little video snippet of them both to whet your appetites.
Want to see what you're missing?
Were you aware that we have a vimeo channel? It's true … master of all things video-techy and photographer extroadinaire Mr Tony Bell of Grapevine Magazine has been recording as many of our shows as he possibly can and adding golden snippets to Vimeo. Check it out here.