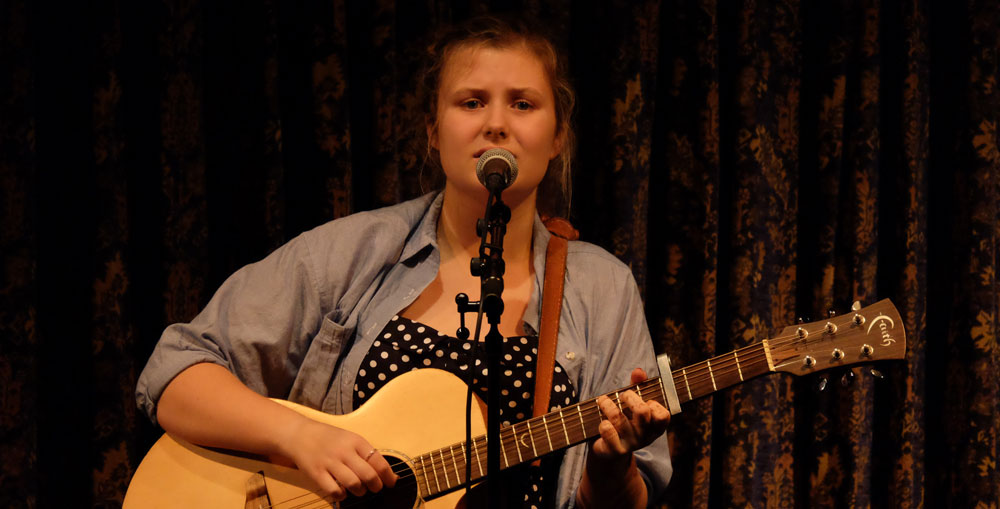 Princess Leia and a Gremlin
Getting my blog in just in the nick of time before this coming Sundays Folk at the Froize (wipes brow … phew!) … and … No, I'm not being rude with my chosen title … just read on and all will become clear … 🙂
I have to say, it seems like a distant memory when we were all sitting, silently awestruck by the gorgeous, sultry vocals of our opening act, Jess Simmons! What a talent .. and so very, very young (so young it's almost too painful to think about). At the innocent age of 16, Jess reminded of the time when we had the Burkitt family grace the FATF stage, when 14 yr old Eliza and 11 yr old Sam left us all with our jaws dropped to the floor … much the same feelings of nurturing, maternal pride that ran through my body back in February, ran through it once again as I watched Jess Simmons. Such a sweet girl, singing heartbreaking songs inspired by her songwriting hero Damien Rice. I think everyone at FATF that night can see that Jess has a very bright future ahead of her and we wish her all the best with her music.
Our headline act for the evening were TEYR (which means '3' in Cornish and as the boys kindly taught me 'pre-intro' … think of star wars and 'Princess Leia' and you'll be saying it right). London based Dominic, Tommie and James were about to embark on their album release tour (and the 'artist' inside me must just take a moment to 'ooooh and aaahhh' over their very cool artwork courtesy of their team of talented fathers (photographers and sculptors) pretty cool stuff which we of course had first dibs on …teehee). Their album tour will see them returning to our neck of the woods (well … woods-ish), performing in Norwich at the very quirky basement venue, the Bicycle Shop on the 16th October.
TEYR are a lovely group of genuine lads, full of fun and chat and very knowledgeable about all things 'musical'. Dominic played the first set of Uillean pipes to feature at a Froize event, (which I now know, from watching sound check, are a complete buggar to tune … I may be putting uillean pipes to the bottom of the list of 'must have' instruments for my collection … much patience required … I admire Dominic for having some) just the smallest change in room temperature can upset the balance of the tuning in a matter of seconds … never the less, a hauntingly beautiful sound. I found Tommies rather quirky 'piano accordion gremlin' quite sweet really (it was making funny gremlin noises throughout the performance). Recently, I have found that I have an ever growing appreciation for a strong, three-part male vocal harmony recently … so I must say a special thanks to the boys for playing my favourite tune 'Shady grove' at the end of the evening after they escaped from the stage in various humorous fashions (for those of you who haven't been to FATF before, I should probably explain at this point that there is no backstage … just a closed door and a set of curtains, so the artists have nowhere to go in-between the end of their set and their encore) so .. Dominic ran off stage, Tommie hid behind the curtain and James hid behind his guitar, all with great comic timing. Thank you Dominic, Tommie and James for sharing your music with us, good luck with your album tour and I really hope you got your hire car back in time (they had to get up at ridiculous o'clock after a 1.30am shut down, to go back to London .. poor lads).
Another night of fantastic music at the Froize, with a devilishly tasty spread supplied by our very own David and Louise. Aren't they just brill 🙂
Very much looking forward to our next SELL OUT event on Sunday which will feature Richard Grainger and The John Ward Trio with 'From Teeside to the Thames … Songs of our English Coastal Heritage'
See you there! And if not there … maybe at our special event 'Folk at the Theatre' at Leiston Film Theatre on Friday 28th October which will feature Wigan based 'Merry Hell' and our very own Broadside Boys.
Tickets are available to buy online at the following link: https://leiston.cloudvenue.co.uk/merryhell