Ghost Stories by Candlelight – Friday 10th November 2023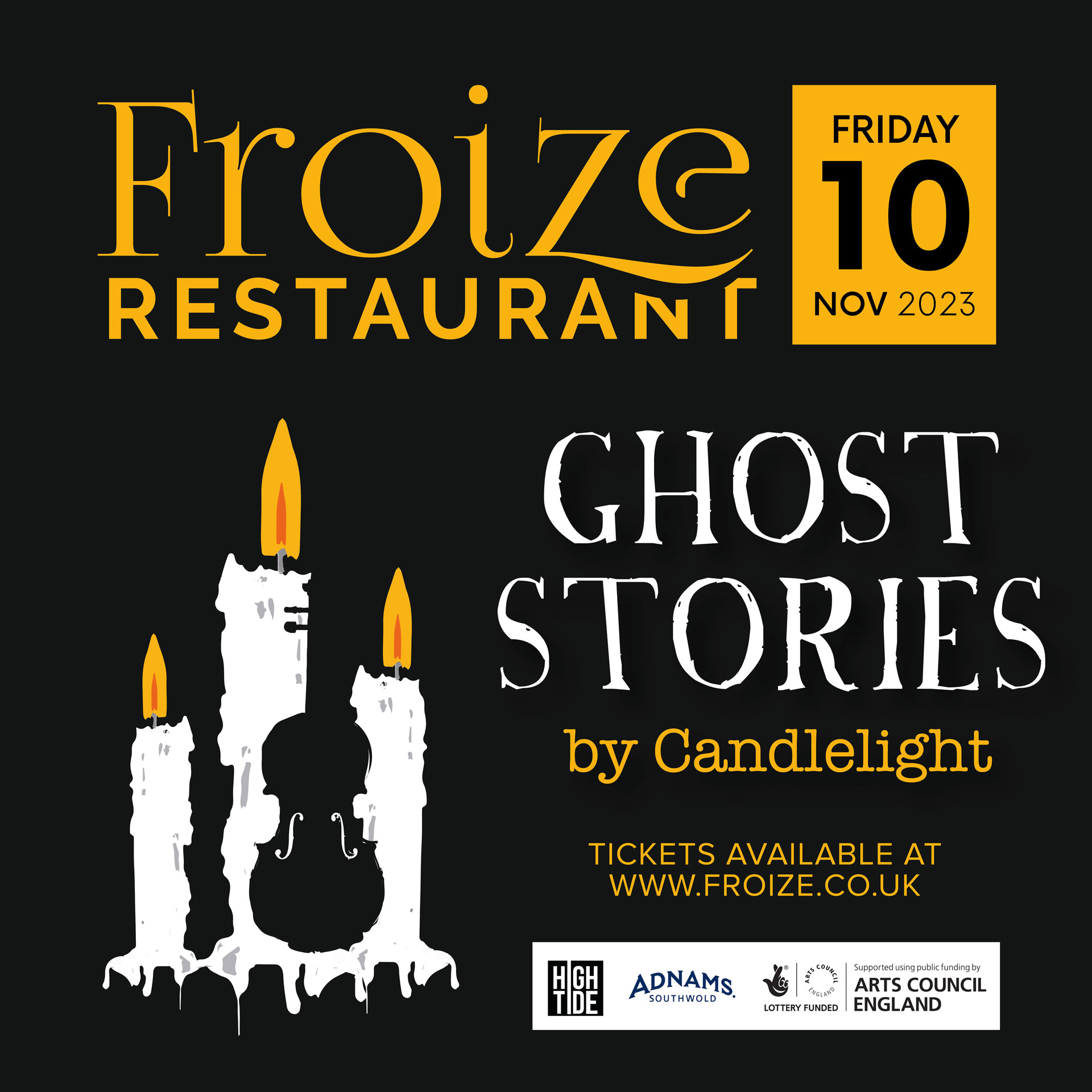 A sea mist descends.

The hound howls.

Sodium streetlights twitch.

A falcon soars above, on the hunt.
Gather close for a candlelit evening of chilling, contemporary tales and haunting new folk music from the 'Witch Counties' of East Anglia. What happens when the ghosts of the past creep up on us today?
Ghost Stories by Candlelight is written by Kelly Jones, Shamser Sinha and Nicola Werenowska. With music and songs composed by Georgia Shackleton. Directed by Elayce Ismail.
A HighTide production, in association with Shakespeare's Globe, Theatre Royal Bury St Edmunds and Harlow Playhouse. Ghost Stories by Candlelight is supported by Arts Council England.
Running time: 60 mins (no interval)
Recommended age 14 plus.
Click to see a typical Folk at the Froize Menu
Two courses - Main course served between 6pm and 6.30pm. Puddings served during the interval.
MAINS
The 'Suffolk' Beef Burger
Mushroom Stroganoff
Aubergine, Spinach and Sweet Potato Curry
Katsu Chicken Curry!
Slow cooked Beef with bacon, mushrooms, and Guinness

 
All served with basmati rice apart from the burger, which is served with chips and all the trimmings.
PUDDINGS 
Our very tipsy! Sherry Trifle
Panna Cotta with Raspberries
Sticky-Toffee Pudding with Butterscotch Sauce
Sunken Chocolate Pudding with Chocolate Sauce
Mango sorbet
We try and cater for a variety of dietary requirements by offering a choice to include vegan, vegetarian, coeliac and lactose intolerant types – Oh! and carnivores too!
All our food is served on & with re-cyclable or compostable plates/cutlery.