Songs of the Season with Kyson Point and Honey & The Bear – Sunday 17th December 2023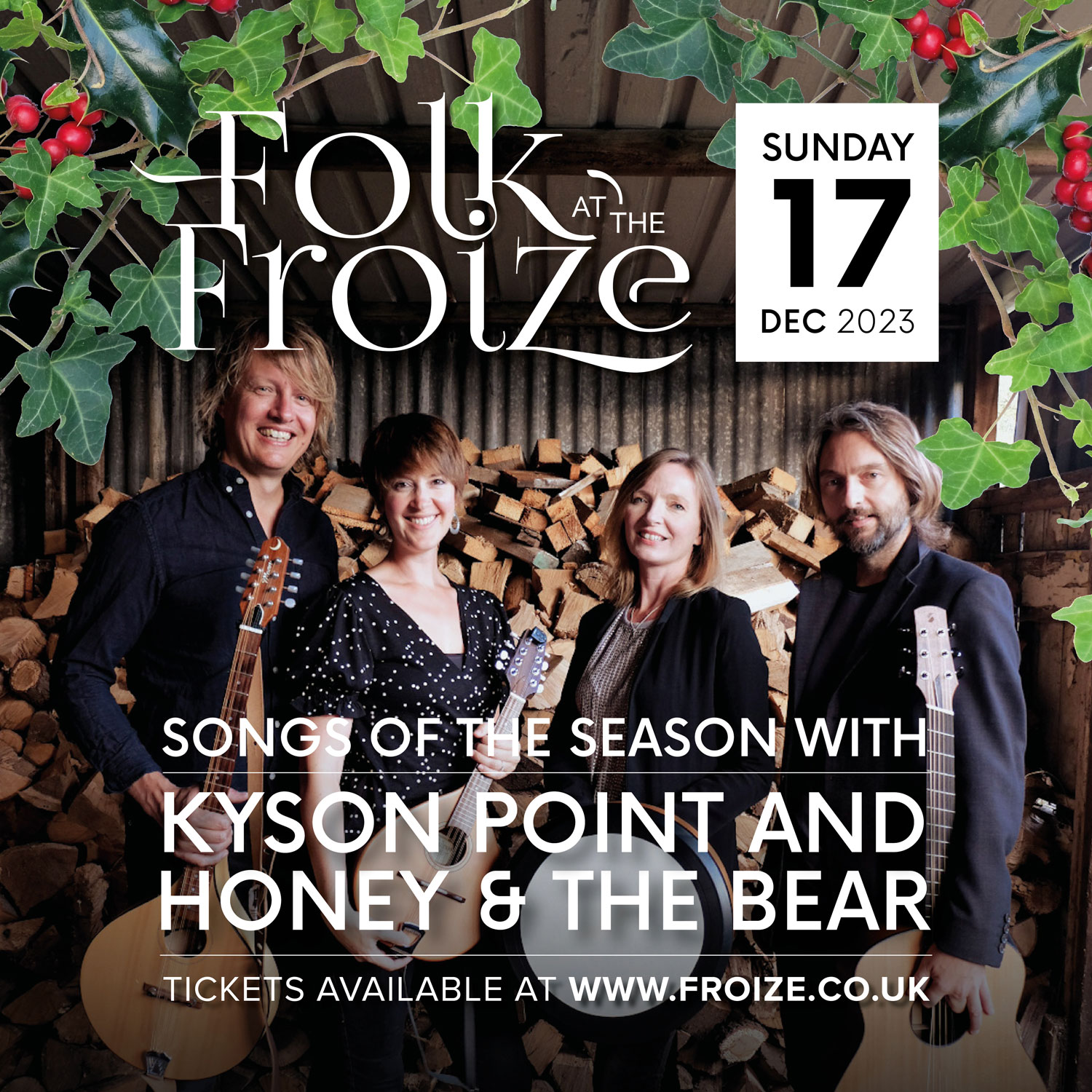 Folk at the Froize is looking forward to presenting 'Songs of the Season' with local favourites, Kyson Point and Honey & The Bear on Sunday 17th December 2023. Join Kelly, David, Lucy and Jon as they sing their hearts out this Christmas, putting on a display of festive fabulousness (is that a word … probably not!) with some popular festive numbers you'll all be able to sing along with. This is sure to be a joyful evening of community and celebration to really get you in the Christmas spirit.
Doors will be open from 6.30pm. An optional two course supper is available from 6.30pm with desserts served during the interval – please book your supper at the same time as buying your ticket for the performance (vegan, vegetarian, GF, DF and carnivorous diets catered for).
Music from 7.30pm
Please note: All tickets include a 5% booking fee.
Click to see a typical Folk at the Froize Menu
Two courses - Main course served between 6pm and 6.30pm. Puddings served during the interval.
MAINS
The 'Suffolk' Beef Burger
Mushroom Stroganoff
Aubergine, Spinach and Sweet Potato Curry
Katsu Chicken Curry!
Slow cooked Beef with bacon, mushrooms, and Guinness

 
All served with basmati rice apart from the burger, which is served with chips and all the trimmings.
PUDDINGS 
Our very tipsy! Sherry Trifle
Panna Cotta with Raspberries
Sticky-Toffee Pudding with Butterscotch Sauce
Sunken Chocolate Pudding with Chocolate Sauce
Mango sorbet
We try and cater for a variety of dietary requirements by offering a choice to include vegan, vegetarian, coeliac and lactose intolerant types – Oh! and carnivores too!
All our food is served on & with re-cyclable or compostable plates/cutlery.