The hipster beard is out … but Moore Moss and Rutter are in!
So our first Folk at the Froize of 2017 has been and gone already, and what a lovely bunch of boys (and girl) we had to entertain us on the 15th January,
Moore Moss and Rutter, are three lads from across the country (Glastonbury, Norwich and Huddersfield) united by their love of music, which is clear to see when Archie (accordion) keeps grinning across at the others, then closes his eyes with a little contented smile on his face … Jack (guitar) is bouncing up and down, grinning from ear to ear, totally consumed by the rhythm of the music (the most impossible man to photograph ever!!! … I rejoiced when he sang so I could actually capture more than a blur) … and then Tom (violin) is swaying from side to side with the momentum from his deft bowing. These are boys who know their instruments and their chosen style of folk music inside out, upside down and backwards. It's fantastic to see three young lads have so much enthusiasm for songs that may otherwise be long forgotten, breathing new life and beauty into each one. It was great to hear Jack and Archie sing too. They skilfully managed to goad the audience into joining in on a couple (us folk at the Froizers do love a good sing-along … all we need now is a raffle and we'll truly be a folk club). With only three CD's left (in the whole world apparently … except if you try to ship one for £25 from China), they rounded of the evening with a set of tunes including the 'King of the Pond', (which rather amusingly has been titled as 'King of the Pong' on iTunes). And I loved the fact that when they got back to our house in the evening, they still had enough bounce to stay up and chat for a while, mainly discussing the hipster beard phenomenon … which apparently is on the way 'out' (who knew! … No need to grow one now Jon … phew … better get out the trimmers David).
Support on Sunday was from my very good friend, Meg Burrows, a songwriter from Rushmere St Andrew, whose liquid voice rang out pure and silken as always. Meg sang all of her own creations that night, with accompaniment from Jordan Hay and me on a bit of bass which Jon (double bassist extraordinaire) had managed to teach me in the week leading up to the gig (I was feeling the groove). It was an honour to be able to support Meg on stage, after watching her songwriting develop and her confidence grow over the past few years. Meg is such a fanastic writer of lyrics … a pure poet at heart. She is currently in the process of recording her first EP, so keep an eye out. For local songwriters, a pin drop listening audience is a rarity (and can be overwhelming … our hands were certainly shaking) but it's also a treat, so thanks to the audience for being super pin-droppy and appreciative as always. Sadly, I didn't manage to get any pics of Meg in action as my hands were otherwise engaged … but who knows … maybe our tech wizard Tony Bell managed to capture some from the official Froize video camera buffet area?!
Our in-house sound techie, Jon, was unavailable on that particular Sunday for the first time since we began FATF (that boy needs to sort out his priorities 😉 teehee … i mean … who really needs to put food on the table hey?) but thankfully super star Bax Baxendale (of Folkeast main stage monitor fame) stepped in at the last moment to save the day! And didn't he do well (watch out Jon … you might be out of a job now) 🙂
Now, our poorly food conjurer Louise (wounded on NYE), told me a little porky … because she said there would be 'less fiddly stuff' this time as she couldn't make it with one arm… (and I was thinking 'noooo … that means there won't be any little honey bear sausages … how will I survive the night') … but I think you'll all agree, there was a VERY large and impressive selection of 'fiddly stuff' available to munch 🙂 so well done Louise and David, as always, for pulling out all the stops on the food front. Delicious! I don't think anyone would complain of going home hungry.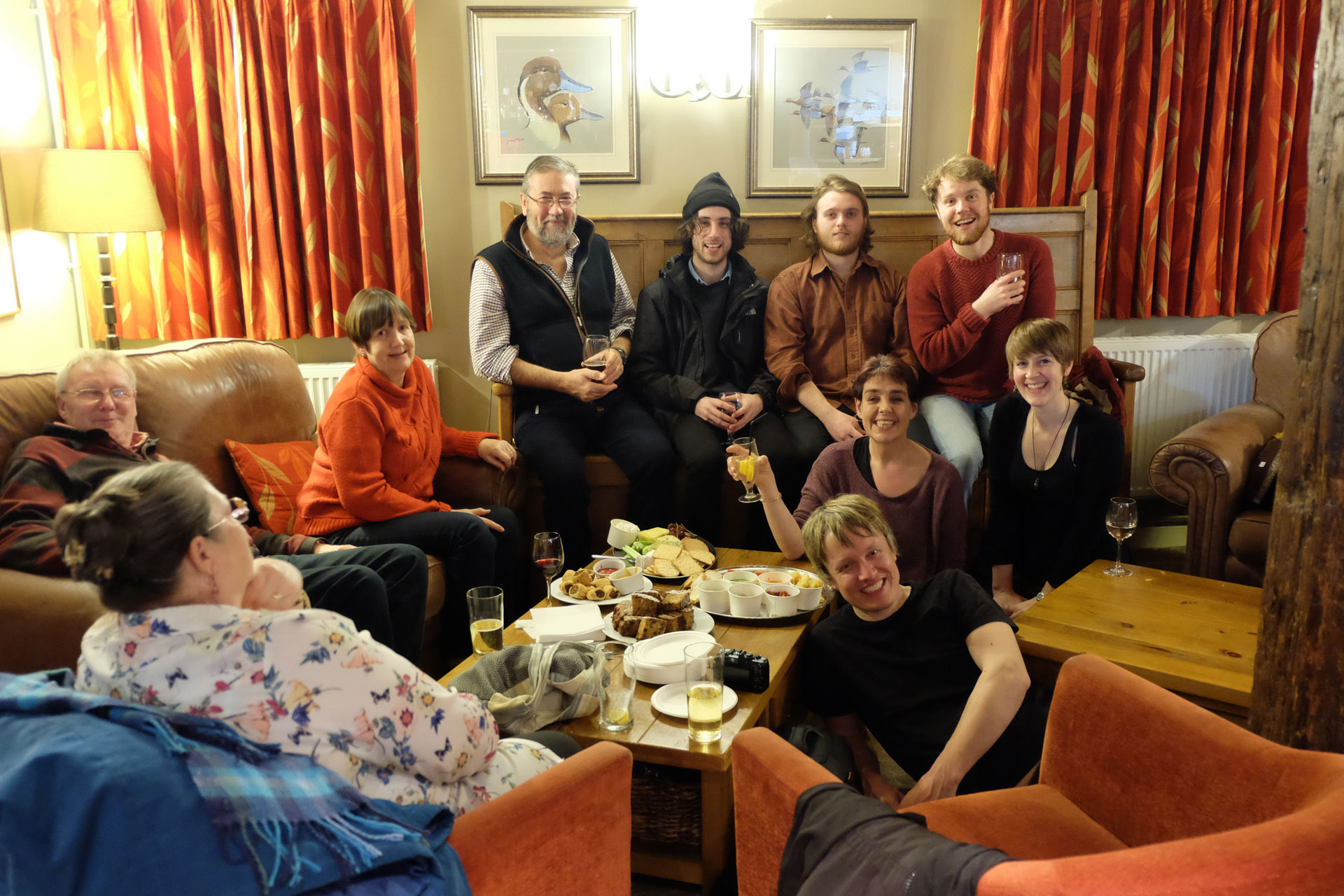 Coming up next, we will be joined by Flemish Quintet, WÖR (I don't know what difference the two dots make … but I'm sure we'll get told on the 19th). Support will be from local songwriter, Nick Brown, who is a guitar genius and has the deepest voice I've ever heard 🙂 If you haven't already booked your tickets, I'm afraid you'll be missing out as there aren't any left! Only standing room available. However, we do now have a waiting list (just incase people cancel at the last minute). So make sure your name is on it.